Threatening "vigilante" fliers calling for torture of "university leaders spouting off all this diversity garbage" were posted in bathrooms across Texas State University after Donald Trump's win in the elections.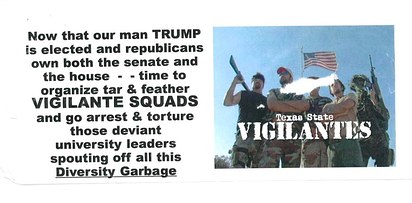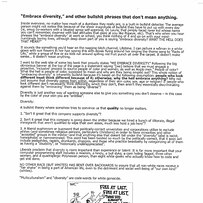 "Now that our man TRUMP is elected and republicans own both the senate and the house – – time to organize tar and feather VIGILANTE SQUADS and go arrest and torture those deviant university leaders spouting off all this Diversity Garbage," the fliers, which were glued to bathrooms and mirrors in buildings across the campus, said.
Other fliers criticized the the concept of diversity and its proponents.
One flier said, "NO OTHER RACE (BUT WHITES) HAS BENT OVER BACKWARDS to assure that all non-whites receive a 'fair shake' in being part of American life, even to the detriment and social well-being of 'our own kinds' (whites)." The flier said "multiculturalism" and "diversity" and "code-words for white genocide."
The Texas State University Police was investigating the incident, President Denise M. Trauth said in a statement. Trauth said she was aware of reports of "action and expression that have occurred on campus following the recent elections in our country."
"Actions such as pasting flyers to bathroom mirrors amounts to criminal activity, and our university police are investigating these incidents," Trauth said. "Texas State strives to maintain an atmosphere that protects free speech, but one that is respectful to other members of the Bobcat community."
The university police did not return BuzzFeed News' request for comment.